What Is The Durability Of Metal Roofs In Texas's Extreme Weather?
Round Rock, United States - May 29, 2023 / Blackhill Roofing /
Black Hill Roofing, a respected provider of roofing services in Texas, recently published a comprehensive blog article analyzing how metal roofs withstand the state's extreme weather conditions. The piece provides valuable insights into the durability and advantages of metal roofing solutions, addressing common questions and concerns homeowners may have.
Understanding the Endurance of Metal Roofs
Metal roofs have long been lauded for their durability and resilience, especially in regions prone to severe weather conditions like Texas. Black Hill Roofing, with its expertise in roofing services, breaks down the various aspects of this robust roofing solution.
Aaron Eugenis, the owner of Black Hill Roofing, sheds light on this subject, "Our mission has always been to provide homeowners with the best roofing solutions, and in many cases, that solution is a metal roof. Despite common misconceptions, metal roofs can effectively reflect heat and withstand extreme weather conditions. However, the installation process plays a critical role in their performance. That's why it's crucial to work with a seasoned metal roofing contractor who can ensure the roof is installed correctly and provide regular maintenance."
The blog article further addresses critical questions, including:
Are metal roofs hail-proof? While no roof can be entirely hail-proof, metal roofs are highly resistant to hail damage. They are engineered to withstand significant impact without compromising their structural integrity.

Can you install a metal roof in winter? Unlike some materials that can be challenging to install in colder temperatures, metal roofs can be installed year-round.

Do metal roofs make your house hotter? Contrary to common misconceptions, metal roofs do not make homes hotter. They reflect solar radiant heat, which can reduce cooling costs during Texas's hot summers.
The Role of a Metal Roofing Contractor in Texas
The blog post emphasizes the importance of choosing a reliable and experienced metal roofing contractor. From selection and installation to maintenance and repairs, the role of a contractor is crucial in ensuring the longevity and effectiveness of a metal roof. Black Hill Roofing's team of experts brings years of experience and technical know-how to every project, providing top-notch roofing services to Texas homeowners.
The Future of Roofing Services with Metal Roofs
As Texans continue to grapple with extreme weather, the resilience and durability of metal roofs make them an increasingly popular choice for homeowners. With an expert metal roofing contractor like Black Hill Roofing, customers can expect meticulous installation and maintenance, ensuring their homes remain safe and secure regardless of the weather conditions.
About Black Hill Roofing
Black Hill Roofing is a premier provider of roofing services in Texas, specializing in the installation, maintenance, and repair of metal roofs. Known for its commitment to quality and customer satisfaction, Black Hill Roofing continues to lead the way in providing durable, weather-resistant roofing solutions for Texas homeowners.
For more information about Black Hill Roofing and its services, visit Blackhill Roofing's blog post here. 
When a new roof is needed, rely upon the experienced roofing specialists with Blackhill Roofing to repair or replace any roof on time and within a given budget – call (512) 900-4933 for help!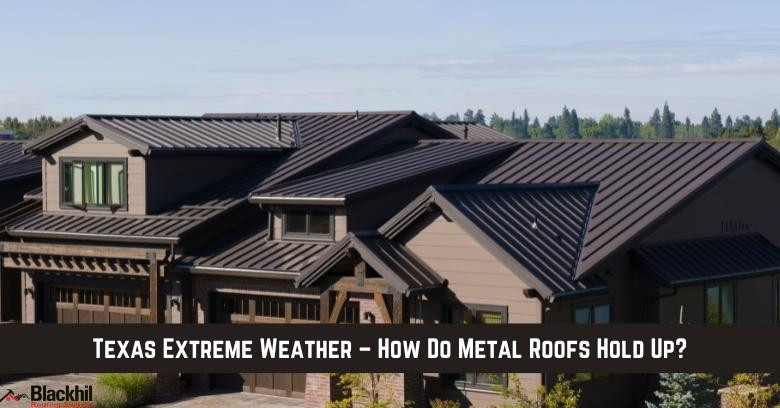 Contact Information:
Blackhill Roofing
2004 Lamar Dr, Round Rock, TX 78664
Round Rock, TX 78664
United States
Anthon Castoldi
https://blackhillroofing.com/

Original Source: https://blackhillroofing.com/blog/texas-extreme-weather-how-do-metal-roofs-hold-up/